August 16th, 2017
GRUMPY OLD MEN BY LEE NIXON is one of the featured works of art inThe Purcell Gallery at The Louisa Arts Center.
The Purcell Gallery presented Upcycle and Recycle which lasts from August 4 to September 22, 2017.

The following comments were made regarding the Grumpy Old Men; Great fun to picture these two coming to life in the artist's imagination! The colors, materials, and craftsmanship tell us this artist knows his craft and how to put a smile on the face of the viewer! Enjoy close observation.

The curator, Emma Lou Martin gave the following commendation; My congratulations to all who were selected into this amazingly creative show! I hope to see many more of your recycled masterpieces in the future! Emma Lou Martin.
June 19th, 2017
THE RACE IS ON NO. 1 is an original 12 x 24 acrylic painting on stretched canvas. It is one of three paintings on exhibit at the LOCAL THIRTY- FIVE in Warrenton, Virginia. The painting depicts the dynamic energy and enthusiasm fueled by horse races. THE RACE IS ON features three silhouette horses and their riders as they race across a track filled with brilliant complementary colors. The painting is composed of swirling clouds and dust, forming colorful patterns, which reinforce the exciting theme!

I traveled to Warrenton on a sunny day in April. The street resonated with sweet jazzy music from a father and son performing on the sidewalk. The surroundings seemed quaint, clean, and friendly. And, then I stumbled across the LOCAL THIRTY - FIVE. The conversation with the owner was quite constructive and she expressed enthusiasm towards my impressionist paintings.

I discovered that the LOCAL THIRTY - FIVE operated on consignments. I chose the consignments based on; the excellent foot traffic, the business is open six days a week and the consignor terms are excellent for the artist.

Please visit my website at - lee-nixon.pixels.com
March 21st, 2016
The University of Virginia Health System Arts Program presents "LUSTROUS LANDSCAPES" by local artist and former art teacher at OCHS, Lee Nixon. The exhibit is at the UVA Hospital Main Lobby starting March 4, and continuing through May 6, 2016.

Twenty five illuminating landscapes are on exhibit, and they represent all four seasons. Lee has experienced all of the landscapes represented by hiking up the hills, and down the meadows.

Nixon works primarily in acrylics for "the versatility" and says his paintings reflect a need, care, and reverence for a serene earth, and the desire to share it with the viewer through color, pattern, and texture.

"I encourage everyone to take the time to smell the roses, observe the brilliant morning sky, and enjoy the glorious sunsets."
April 19th, 2014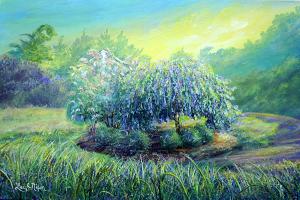 Nixon's HIDDEN COUNTY HOME ON OLD RAPIDAN ROAD is a new series of painting featuring local landscapes around Orange County, Virginia. The following paintings are part of new series: Sunny DAY ON THE FARM, PASTORAL VIEW ON OLD RAPIDAN ROAD, A SCENIC VIEW ON JACKSONTOWN ROAD, BACKYARD BEAUTY, A FENCESIDE VIEW ON OLD RAPIDAN ROAD, HIDDEN COUNTRY HOME ON OLD RAPIDAN ROAD, EARLY MORNING VIEW ON OLD RAPIDAN RAOD, and A SPLENDID VIEW OF THE RAPIDAN RIVER.

Additional paintings of rural scenes that are not local are also being painted. They will feature scenes in nearby counties. I have several exhibitions in the very near future. You will be informed about the location and the paintings' theme in the very near future.

Thank you for visiting my blog and website. I will try to be more consistent in providing updates in the future.

Thank you,

Lee Nixon
September 17th, 2013
The Montpelier Steeplechase and Equestrian Foundation is sponsoring an exhibition entitled; Race to the Races. So, I painted three painting for this juried event. All three painting were accepted. The largest painting is in an impressionist style featuring the steeple chase with the home of James Madison, Montpelier in the background. The next two painting were spontaneous. I featured a silhouette of the steeple chase with a spectacular background filled with an array of vibrant colors.

What is the lesson? The process of creating one than one painting of the same subject matter frees the artist to experiment and create a spontaneous composition, free from inhibitions.

January 9th, 2013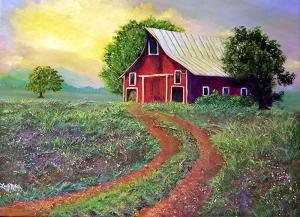 The Copper Flame Gallery is featuring Lee Nixon during February 16 through February 28, 2013. Copper Flame Gallery is a Virtual Online Gallery that seeks to Showcase Talented Artists. The main focus of Copper Flame is to: showcase artists from all over the world, display their art in a simple easy fashion, and to allow the viewer to converse with the artist in the lounge.
Please visit the Gallery and send the artist many comments. I look forward in hearing from you.
Lee
Please visit http://copperflame.com for additional information.


October 23rd, 2012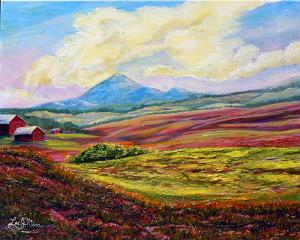 Lee Nixon - Fine Art
October 2012 http://lee-nixon.artistswebsites.com
Hello and thank you for stopping by my website to see my Impressionist paintings, drawings, and floral paintingss. I have been painting landscapes and other subject matter for nearly 48 years. My paintings reflect a reverence for a serene earth, and the desire to share it with you through color, pattern, and texture. I work primarily in acrylics for their versatility and compatibility with other media.

How I Choose a Painting Palette
Artists begin with a palette void of color. Thus, the first step involves choosing colors that will represent the feelings, ideas, and passion of the artist toward the subject matter.
I love bold colors, especially complementary colors. Complementary colors face one another across the color wheel as opposites. For example: red and green, blue and orange, yellow and violet, yellow orange and blue violet, red orange and blue green, red violet and yellow green.
Complementary colors enhance one another when applied side by side. A cool green next to a bright red will generate a fiery pulsating red, whereas a warm red next to a green hue will enhance the cool, soothing effect of green.
So you can imagine what is on my palette! On one side you will have cool colors, such as; violets, blues and greens, whereas the opposite side will consist of warm colors; yellow, orange, and red.
How do I put this to practice? Often I will use a reddish hue (color) for grasses, and then overlap it with blades of green, yellow green and blue green. A beautiful blue spacious sky will be filled with gorgeous sun struck clouds consisting of yellow orange, white, blue, yellow, and a touch of violet.
The law of optics applies here. The Pocket Dictionary of Art Terms edited by Julia M. Ehresmann, defines mixing Optical Mixing as the involuntary mixing of juxtaposed colors by the eye. Thus at a certain distance, juxtaposed dabs of red and yellow pigment produce the sensation of orange. The colors seen by optical mixing appear more clear and brilliant than those obtained by mixing pigments on a palette.(end of definition)
One's eye will dance before the pulsating colors as they excite the eye. Cool colors generally recede, however if a warm color is placed behind a cool color, it will push it forward. A cool color, on the other hand, if it is placed in front of a warm color will attempt to push it back, thus creating a pulsating effect. This explains why my palette is full of bright bold colors.
How do you choose your painting palette? There are many color arrangements such as: analogous, complementary, split complementary, triads, warm and cool colors. Also, one may select a monochromatic color scheme, one color plus white, black and gray. What a selection!
I will continue to discuss other topics in my next newsletter. Thanks for stopping by.
Lee

October 5th, 2012
Lee Nixon – Impressionist Artist
Summer 2012 http://lee-nixon.artistswebsites.com

Hello and thank you for stopping by my website to see my Impressionist paintings, drawings, and floral paintings. I have been painting landscapes and other subject matter for nearly 48 years. My paintings reflect a reverence for a serene earth, and the desire to share it with you through color, pattern, and texture. I work primarily in acrylics for their versatility and compatibility with other media.

The Exhibition at The University Medical Center in Charlottesville, Virginia was very successful. I sold several paintings and received numerous encouraging commendations. Thanks to all that attended and your support.

It was amazing to see lovers of art having an aesthetical experience. They bonded instantly with the artwork. It was fabulous!
May 16th, 2012

New Exhibitions
The thrill of excitement is in the air! Can you smell its sweet fragrance? Several new large paintings will not be exhibited during the June 29, exhibition at The UVA Medical Center due to limited space. So, instead smaller paintings are being completed for maximum exposure. Several smaller paintings can be exhibited in place of a large one. Thumbnail images of several paintings for the UVA exhibit will appear in the next newsletter.
As for now, new paintings are being exhibited at The Light Well Tavern on 110 East Main Street, Orange Virginia. The exhibit is for the month of May and June. Several large Impressionist Landscape paintings are on display depicting the dynamic energy generated by the surging waters of the Niagara Falls. My family and I were amazed by this display of awesome power and beauty when we visited upstate New York in 2011. I was personally amazed by the balance of immense, dynamic energy and power balanced by the fragile beauty of natural forces and vegetation on our wondrous home, the earth. I feel that it symbolizes the harmonious balance of life now and even more so in the near future. The titles of several paintings depict this theme; Surging Flow of Immense Power and Beauty (two separate paintings), Dynamic Energy Balanced by Tender Beauty, and A Pattern Of Earth's Beauty.
The Arts Center in Orange is sponsoring this satellite exhibit at The Light Well. One of the two paintings, Surging Flow of Immense Power and Beauty, is on exhibit at The Arts Center; 129 East Main Street, P.O. Box 13, Orange Virginia 22960. Email: theartsorange@aol.com for additional information, Director Laura Thompson.