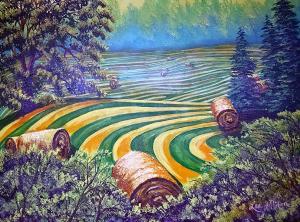 Orange County Review inSIDEr, June 2, 2011
inSIDEr By
Phil Audibert
June 2, 2011
Let's listen in on Lee Nixon's Art II class at Orange County High
School.
"I think I'm done," says Rachael Donaldson as she puts the finishing
touches on a linoleum block that she has been studiously carving
with a gouge. She has to work in reverse, cutting away anything that
doesn't look like a moose on a hillside.
"Okay, are you going to put in any details in the back?" asks Nixon.
"I can," she responds brightly.
"Yeah, I would put little, fine lines in that, otherwise it'll look more
like a silhouette. It'll look better with the little, fine lines."
"Okay," she says pleasantly and goes back to work.
"Everything you carve out will be white, the color of the paper,"
announces Nixon to the class as a whole. "Everything you don't carve
out will be the color of ink." He rolls ink onto Emily Whitten's work and
presses paper to it. Out...